Einar Hareide
Former design director at Saab Automobile AB and Mercedes Benz designer
Einar Hareide is a Norwegian industrial designer, leading an award winning studio Hareide Design. Prior to that, he was a design director at Saab Automobile AB and later employed by Mercedes Benz. Since 2002 he has been an Executive Design Adviser for Bogwart AG. Einar has worked with companies from wide range of industries. His clients include Volvo Cars,SJ/Bombardier, Kongsberg Maritime and Rolls-Royce Marine.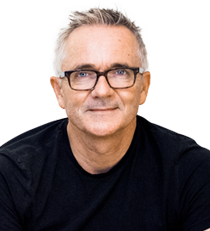 In detail
Einar has an inspiring story to tell about his journey from a small island on the coast of Norway (Hareid) to end up as design director at Saab Automobile in Sweden at the age of 30. Experiencing first hand the period when Saab was a small car company with a slightly rebellious and a highly respected image to becoming a part of giant General Motors, a modern equivalent of David's fight against Goliath. Einar started his career as a designer at Saab Automobile in 1986. In 1989 he was employed by Mercedes Benz and was responsible of the design of the 1994 E-Class that became the first Modern Mercedes with round headlamps. In 1991 he was asked to come back to Saab to be in charge of exterior design and in 1994 he was promoted to the position of design director with total responsibility for the exterior, interior and color&trim of all Saab Cars. During that period he was responsible for the design of the new generation of Saab cars that includes the Saab 9-3 series (1993) and Saab 9-5 series (1998). In 1999 He founded Hareide Design. The studio work has been internationally recognized by Museum of Modern Art (MoMA), Indianapolis Museum of Art (IMA), and received more than 20 awards.
What he offers you
How do you create customer value in a world where products are becoming services, how can you get paid for a service that can be for free somewhere else, and how do you create true value to your customers? Einar answers those questions and demonstrates how important is design thinking and creating a culture of innovation that is active instead of re-active. He shows the importance of creating a long-term internal strategy for product and service development without being governed by what the competition is doing. Einar also covers areas connected with IoT (The Internet of Things) and robots entering production (Industry 4:0) and demonstrates how this affects design, production and the human being.
How he presents
Einar's presentations are supported by unique visualization and animation tools, leaving the audience mesmerised and highly inspired. He has held many lectures in both in English, Swedish and Norwegian, to students and universities and to large multi international companies, as well as product launches for the car industry among others.
Languages
He presents in English, Swedish and Norwegian
Want to know more?
Give us a call or send us an e-mail to find out exactly what he/she could bring to your event.
How to book him/her?
Simply phone or e-mail us.
Topics
Design
Teamwork
Creativity & Innovation
Internet of Things
Robotics
Future
May we help?
To discuss how we can help find the right speaker for your organization, contact us:

+48 58 321 73 02
marketing@speakers.pl
www.speakers.pl


Related speakers